Planing and Finishing Services
General Fee Guidelines:
$55 fee for Standard Knife Setup
$110 fee for Specialty Knife Set up include the following: Log Profile, Cove Siding. More profiles available contact us to discuss the options.
Planing/Finishing 
Softwood – $0.55 per boardfoot                                                                                      Hardwood – $1.10 per boardfoot
CONTACT US FOR SPECIAL PRICING FOR KILN DRIED AND DRESSED CEDAR
CUSTOMER SUPPLIED LUMBER subject to 50% increase in fees
Planing is completed at our Spencerville workshop by our Wood-Mizer four-sided planer/molder, the MP360. It has one of the highest ratings worldwide for planing services. See the details on the MP360 on our equipment page.
We are happy to mill;
pieces that you've brought in on your own, –
pre-cut wood available in our warehouse, or
wood we've cut into planks and dried for you.
The MP360 mill can do many PROFILE finishes such as:
Tongue and Groove slats for flooring
Shiplap
Wainscoting
Board & Baton Siding
Custom cabinetry pieces
Tapered siding (COMING SOON!)
Wood shingles (COMING SOON!)
Need something else? Just ask!
The four-sided planer requires wood to be dried first. One edge of the dried wood must be level/flat/true. Boards not meeting the necessary standard will be put through our Grizzly 12" x 84" jointer/planer first, which is equipped with spiral cutter heads, before moving on to the final planing stage.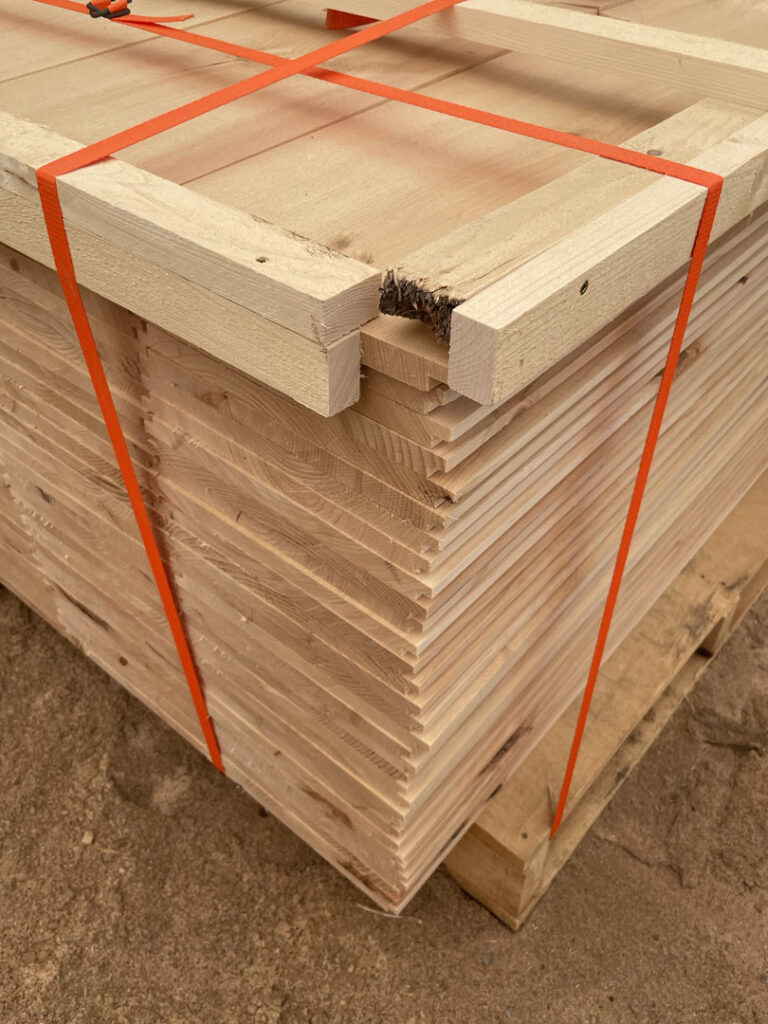 Our workshop also includes:
Radial Arm Saw
Table Saw
Jointer Planer
General Fee Guidelines:
$135/hr                                                                                                                                                                                                                              $33.75/15 minute minimum charge
Upon request, we can stack and prepare lumber for shipping. 
If not going to be used right away, rough sawn lumber can be stacked with one-inch wooden slats, called stickers, between every layer of wood, at 24 inch intervals. Each stack sits on 6 x 6 crossers.
Lumber can also be strapped prior to pickup. 
General Fee Guidelines:
$0.50 Sticker – 1″ material placed every 24 inches between layers
$7.50 Crosser – 6″ material placed on the bottom of each stack every 3-4 ft
$12.00 Strap – polyester cord with edge protectors placed every 3-4 ft