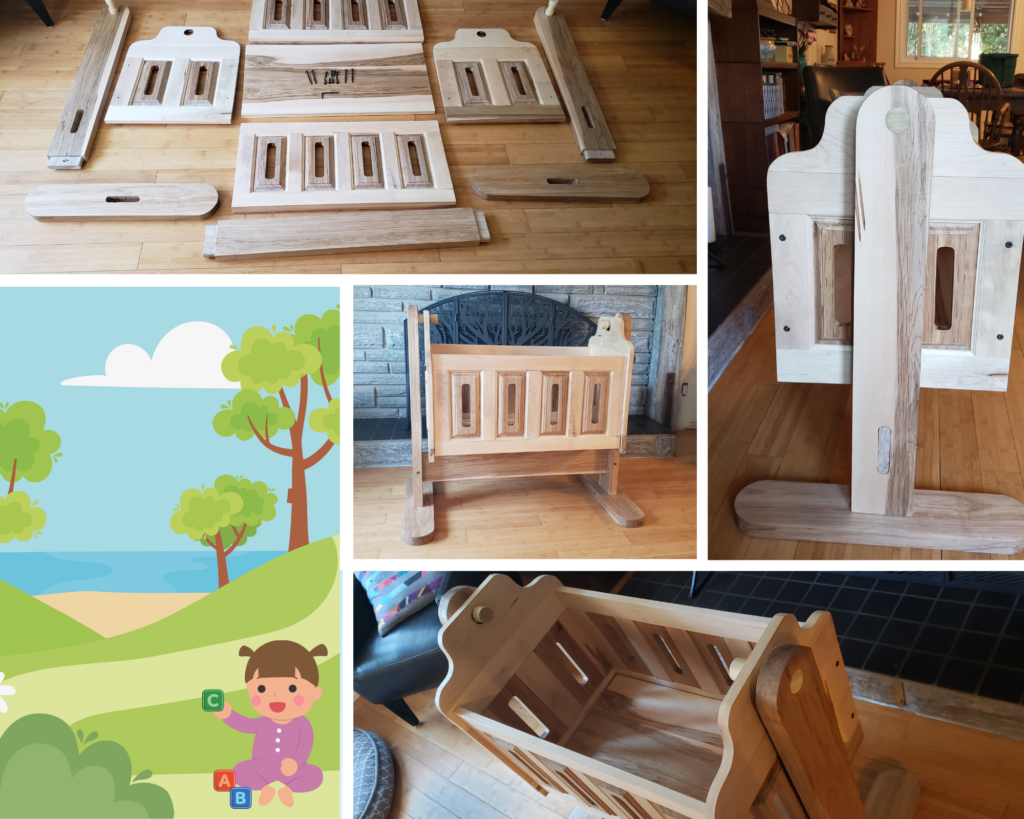 This beautiful baby crib was build by Paul M. for his grand-daughter.  The craftsmanship in this piece is absolutely stunning.  
A Beautiful chicken shed build by one of our lovely customers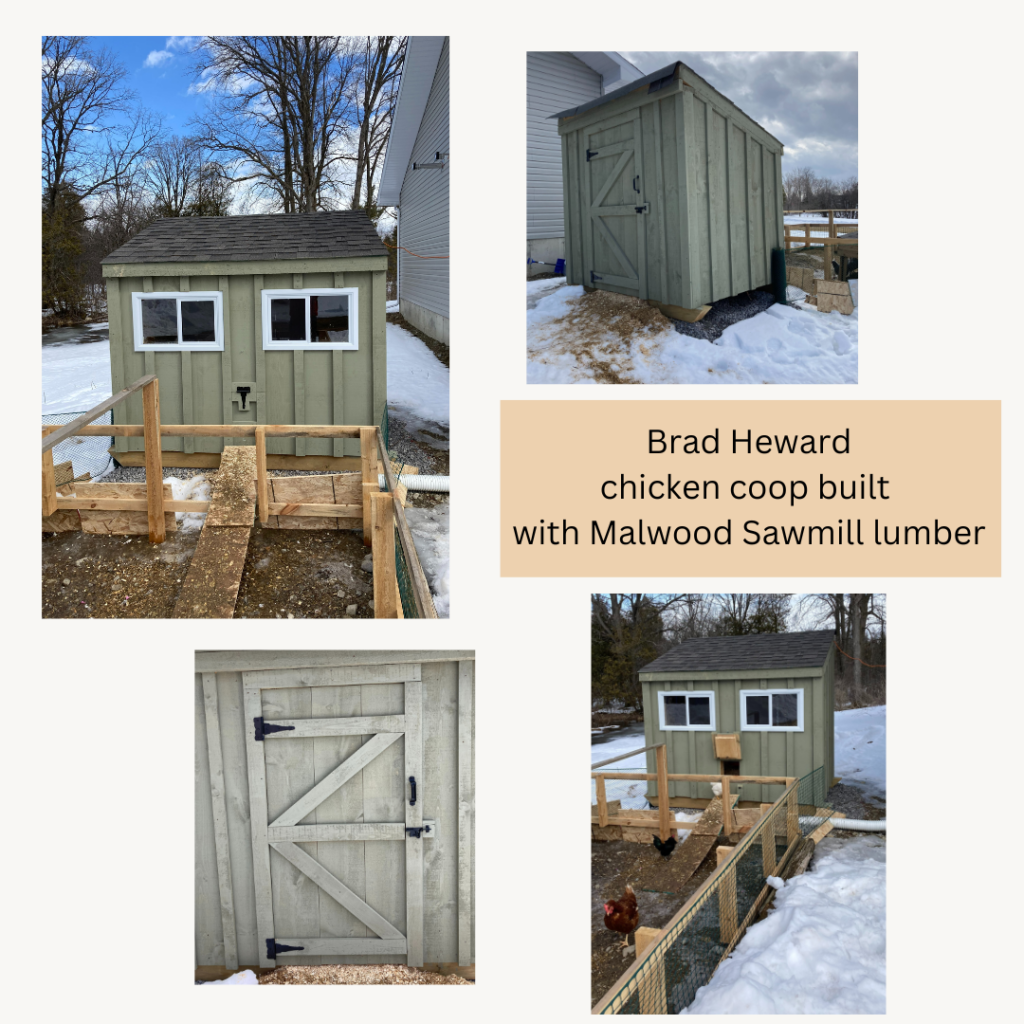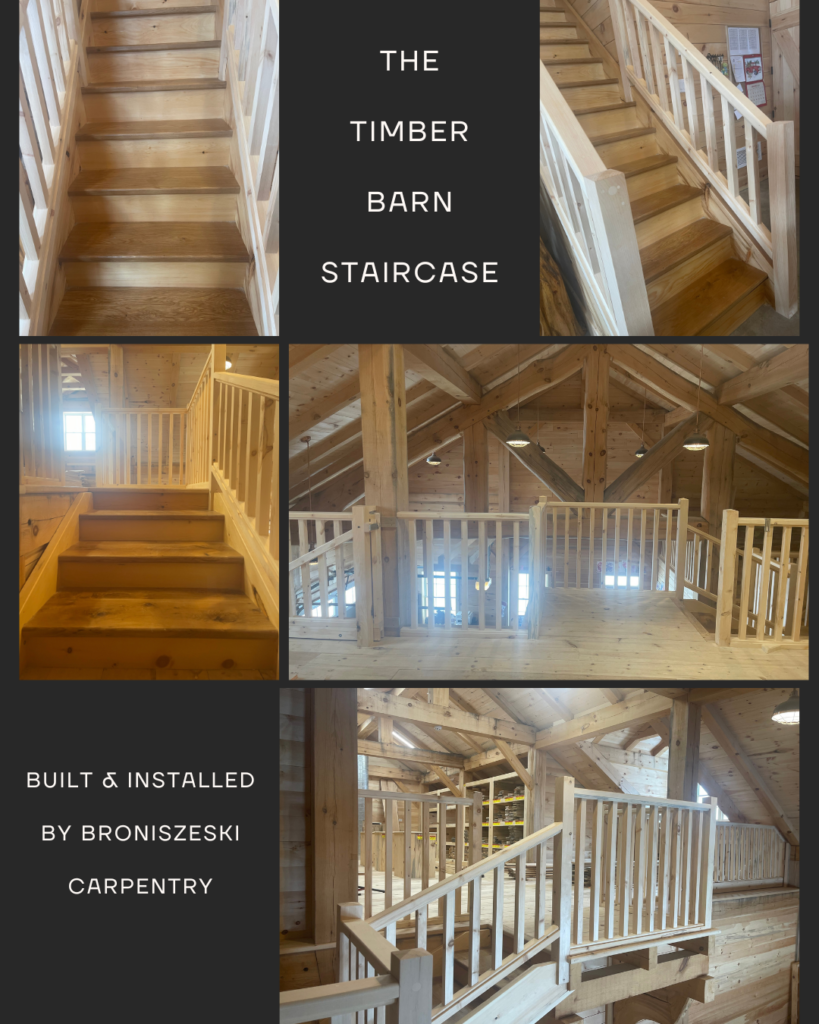 The Timber Barn at Malwood Sawmills is home to the Hardwood and Softwood showrooms as well as the site of our office.  The Timber Barn was completely milled on site, with the exception of 8 beams that at the time were too long for our mill (today we could have milled the entire building).   
Broniszeski Carpentry has done all the work on our beautiful Timber Barn, and the finishing touches were just applied with the beautiful oak and pine staircase, with pine hand rails.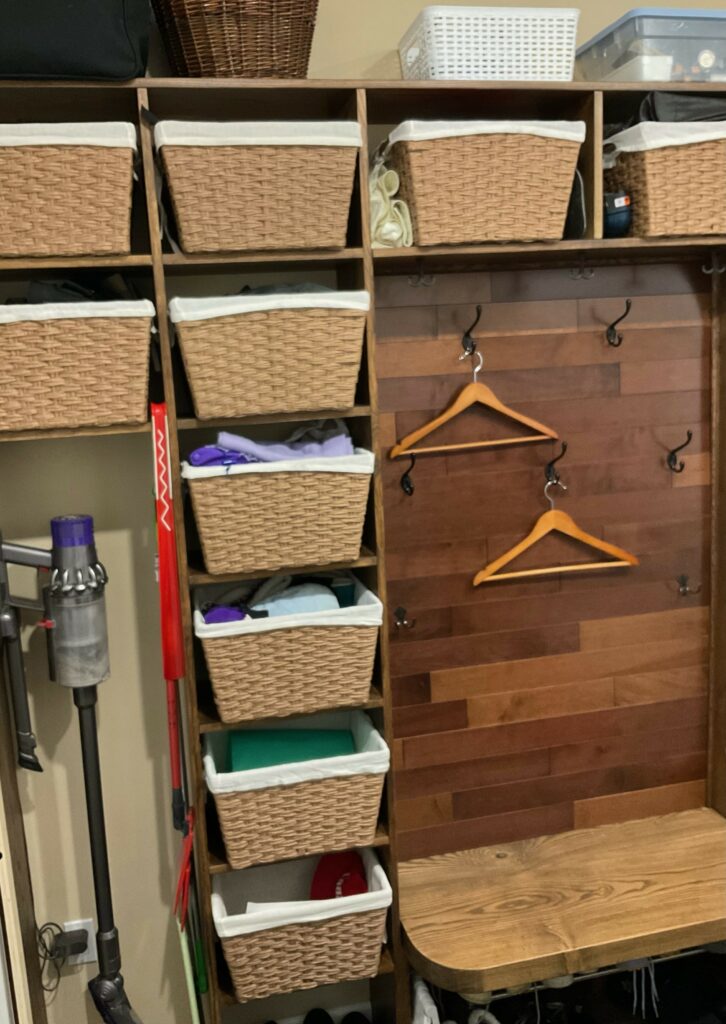 Two amazing projects completed by Mr. G. Van Der Burg using Malwood Sawmills lumber, a back entry/mud room project with the beautiful ASH wood bench and an accent shelf in the a washroom.
Doug Phillips – Front Porch project.
"We are extremely pleased by how it turned out. Here are a few pics of the finished project. Thanks for being such a great person to deal with!"
Our client installed a new deck on this utility trailer using beautiful ash wood.  Benjamin Moore black semi transparent stain was applied to the boards for a sharp looking finish.
According to Sciencing.com, "Ash wood is a key part of the lumber industry thanks to its strength, lightweight nature, shock resistance and beautiful aesthetics. It's often used in woodworking, construction and sporting goods for these reasons as well." Learn more here.
To get ready for planting season, a client purchased cedar from Malwood Sawmills and constructed these raised garden boxes. 
The pattern can be found here.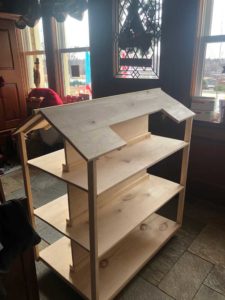 Build by Dave, Owner/Operator at Malwood Sawmills, this three story doll house was the perfect Christmas gift for a 3.5 year old girl. 
Dave did modify the pattern a bit to suit this project. The pattern is here. 
One of our first employees is an avid hunter and angler. In addition to starting a new career with Malwood Sawmills, this young man also shot this first deer in 2020. A friend painted this beautiful keepsake on a piece of wood milled at Malwood to commemorate both occasions.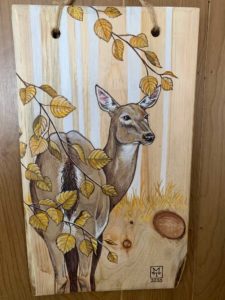 Christmas Eve service at Spencerville United Church traditionally is celebrated with a nativity play. Children and young adults from the congregation play the roles of holy family, wise men, angels and stable animals.  The global pandemic and public health restrictions did not allow this in 2020. A local artist created this nativity scene using live edge scraps for Malwood Sawmills.  This beautiful alternative provided a lovely tribute the tradition.
Barnboard House Crafts (located in Spencerville) creates beautiful wood items created from Malwood Sawmills. 
Bryan Lamb – Table and Bench 
Caron Ferrie – Barn Project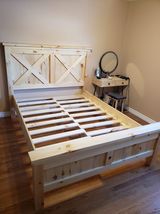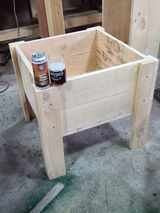 Steve Holmes – Duck Shelter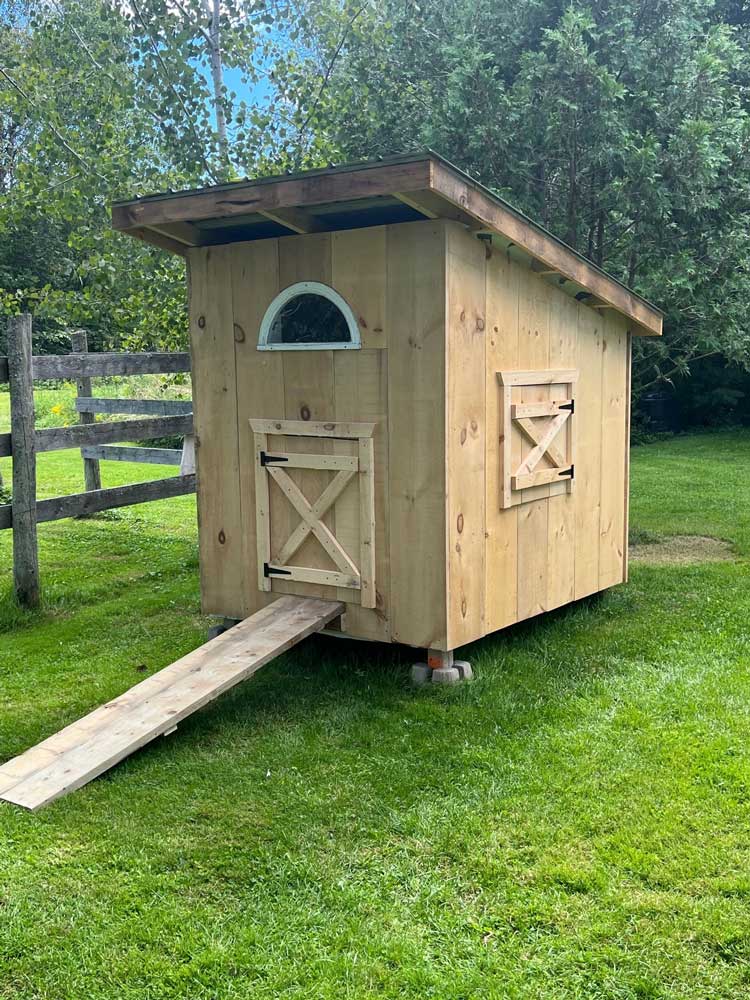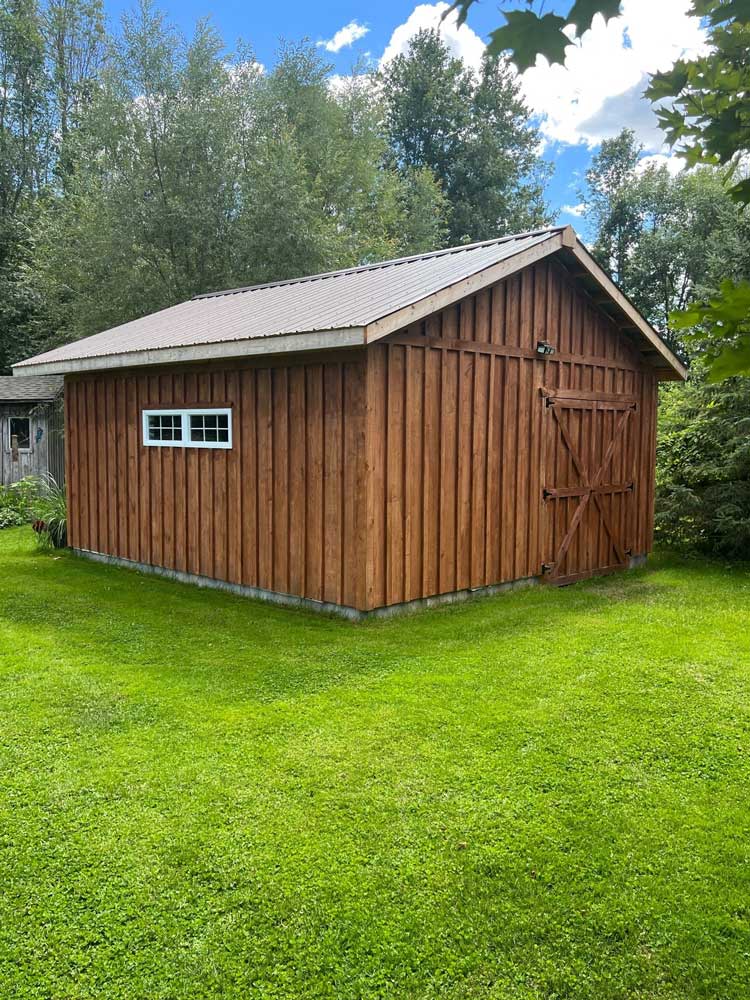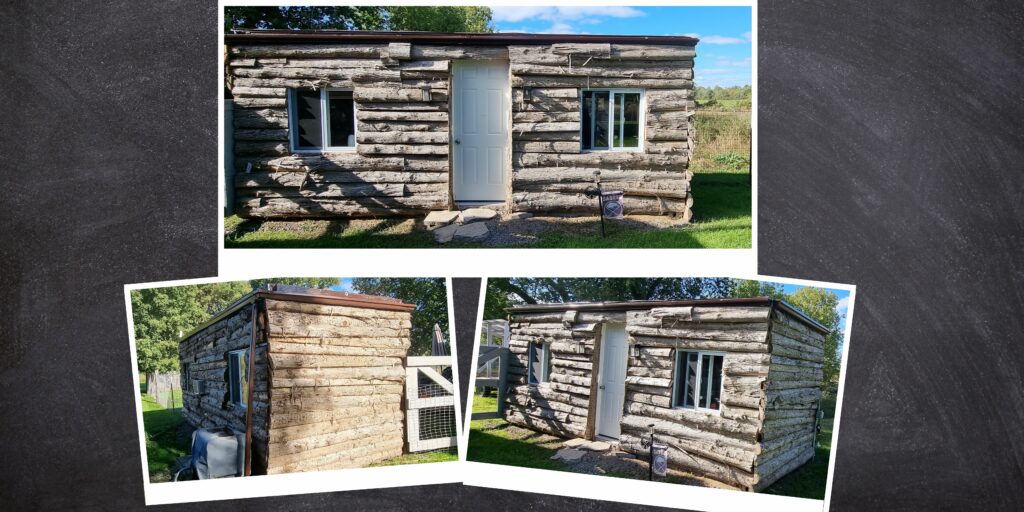 Scott van Slyck – beautiful conversion of a shipping container using cedar live edge planks
Beautiful Live Edge Blue Pine slab used to beautifully display Mr. Kinlin hunting trophies.